Stump Grinding Leeds, Harrogate & Wetherby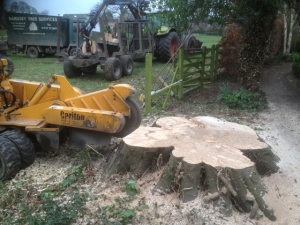 Bardsey Tree Services provide Tree Stump Grinding Services in Leeds, Harrogate, Knaresborough & the Wetherby areas.
Using our range of stumpgrinders we safely remove stumps to make way for new plantings, or to prevent the spread of disease from fungus's and pathogens such as honey fungus.
Stump grinding is far more effective than other methods such as mechanical digging, winching or poisoning and also much cheaper and safer.
Professional Stump Grinders with the Latest Machinery
Our range of stump grinders can access confined area with poor access and deal with even the most difficult and cumbersome stumps.
We provide an efficient, safe and effective stump grinding service to both commercial and residential customers, dealing with any type of Tree Stump.
Contact us today to book a free quotation 01937 573 689